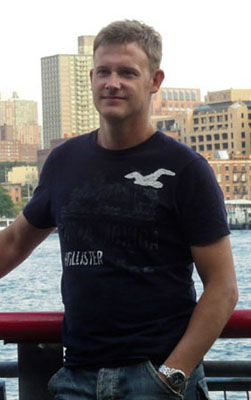 Hi!
I'm Fini Patrick Holsting from Copenhagen, Denmark. I'm a Maritime Officer with A. P. Moller-Maersk / Maersk Supply Service in the Danish Merchant Navy, and currently I reside in Svendborg on the island of Fyn, 150 miles from Copenhagen.

History
Born in Roskilde west of Copenhagen, Denmark December 26 1982, I lived the first 6 years of my life in the Danish country side, in a house my Dad built outside Koege. In 1989 I went with my family to Kentucky, USA for a year, where my twin brother and I attended first grade and my older brothers went to high school. Coming back to Denmark we settled down in Naerum, a suburb of Copenhagen, 10 miles north of the city.

I completed ground school (0-9th grade) in 1998 and then took my high school/upper secondary/preparatory school exit examination at Virum Gymnasium, graduating as as a mathematic student in 2001.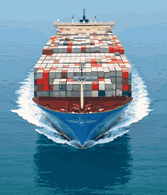 Going to Sea
My twinbrother and I signed for the world's largest shipping company A. P. Moller-Maersk in the fall of 2000, and started at Svendborg International Maritime Academy in Svendborg, Denmark August 2001 along with 70 other cadets, to commence training as a dual purpose ship's officer. Graduating from first theoretical period in December 2001, I went to sea for practical training for 6 months. I spent two months on board one of the world's then largest container vessels, Knud Maersk, going from Europe to the Far East. I then embarked the large tanker Eli Maersk, and sailed from the Middle East to the Carribean Sea and Brazil and back to Cape Town, South Africa.

After a 6-month workshop course in Svendborg, DK, I completed 2nd and 3rd theoretical semester before returning to sea in 2004. I embarked containerships Olga Maersk and Nicolai Maersk and supply vessel Maersk Forwarder. In 2005 I completed 4th and 5th theoretical semester to graduate as a Dual Maritime Officer (Junior Officer) in december 2005.

Career
After graduating I worked for 18 months as both navigational officer and marine engineer primarily in the Europe - South America trade with the A. P. Moller - Maersk L-type container vessels, while also doing some work ashore for the cadet recruiting department.

From 2007 to 2009 I returned to Svendborg International Maritime Academy, studying to obtain Master's and Chief Engineer's License (Senior Officer) and also working as an instructor in the academy's ship navigation simulators. I spent the summers between school periods at sea with Sofie Maersk and Anna Maersk.

I graduated as a Dual Senior Officer (Master Mariner and Chief Engineer) in October 2009 and subsequently signed up with Maersk Supply Service, and returned to Maersk Forwarder.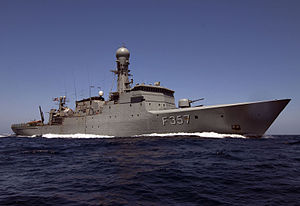 In August 2010 I was drafted to the Royal Danish Navy and underwent four months of military training. This included a two-month expedition to Greenland with Danish navy vessel HDMS Vaedderen (Thetis-Class ocean patrol frigate).

After that I returned to Maersk Supply Service, given assignments within their fleet of large Anchor Handling Tug / Supply vessels in world wide trade.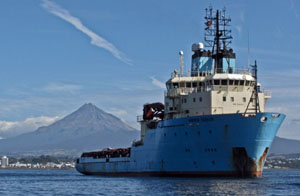 In December 2012 I was offered promotion to Chief Officer, and elected to focus on the navigation/deck side while still retaining my marine engineer license.

In 2014 I obtained a Master Mariner Unlimited license, enabling me to assume the role of Captain/Master on any ship, regardless of size and geographic location.

Since 2016 I have been involved in the Maersk Starfish Newbuilding Project where I am assigned as Chief Officer, part of the operational crew.

Facts
Interests: My job, sailing, sailboats, engineering, traveling, music, classic cars.
Education: Fully licensed navigation officer and marine engineer (Master Mariner Unlimited, Engineer 1st class).
Current Occupation: Chief Officer in the Danish Merchant Navy, A. P. Moller - Maersk, Maersk Supply Service.
References: Find me on Linked In.